Brooklyn, Committed
To The Success Of Your Project
Brooklyn Barge & Tug Services previously known as Brooklynn Contracting was established in 1997. We are committed to continued growth, diversification and accommodating the needs of our customers.
As an industry leader, we bring years of experience to the barge and tug industry and are currently one of the only companies operating on the Kootenay and Arrow Lakes. With our large fleet of equipment and experienced staff, we offer a variety of lake services, such as: barging, dredging, debris clean up, pile driving and machinery services.
At Brooklyn, we pride ourselves on providing a safe and professional working environment for our team and customers.
Regardless of operating conditions, we are prepared to overcome challenges that arise from unpredictable weather or unforeseen circumstances in the Kootenay region. Whatever your situation may be, give us a call!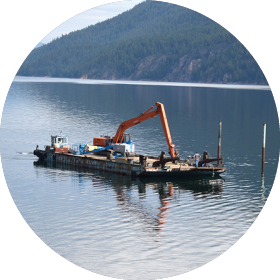 Barging
You can count on our barge services to safely handle your commercial or residential freight hauling needs. Our 120 Tonne Barge allows us to move all cargo you require: machinery, building supplies, vehicles, cement trucks, propane trucks, fuel and all other necessities.
Dredging
We utilize a 60-foot-long Reach Excavator to safely perform removal of mud and sediment from the lake bottom. This ensures easy access for residents and commercial users. For your next restoration project, our committed staff is ready to efficiently take on the task.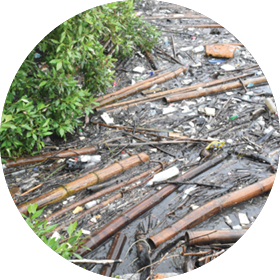 Debris Clean Up
Our tug boat can safely sweep the lake surface to safely and economically clean up lake floating debris. Land and shore debris clean up can also be performed by using our machinery. You can trust us to efficiently handle debris clean up of any magnitude.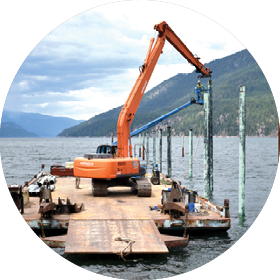 Pile Driving
The excavator vibratory attachment used, helps to provide a variety of essential services with regards to dock system preparation and maintenance, as well as, booming grounds. We will gladly perform all of your commercial and residential pile driving service needs.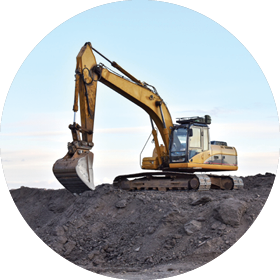 Machinery Services
Site preparation, road building, foundation prep, and bulldozing are some of the services and projects that we are able to handle. By using a variety of machines, no project is too big or too small. Our qualified operators are ready to manage and take care of your project.
"We have experienced professionalism and a high level of service from Brooklyn Barge and Tug. They successfully and safely perform our projects and are extremely accommodating with regards to our specific requirements and time-lines. We feel fortunate to work with such a safe company and value their experienced and professional employees."
Geoff Bekker, Woods Division Manager, International Forest Product LTD.
"
Brooklyn
Barge and Tug has always been a reliable service provider for our marine operations at Mercer Celgar. We always have confidence that their expertise and experience will lead to an on time and on budget project. This knowledge and expertise ties in perfectly with their safety program."
Mike Lynn, Area Manager Fibre and Mill Services, Mercer Celgar
"We have worked with Brooklyn Barge and Tug Services many times over the past 10 years and appreciate the professionalism and responsiveness that Brooklyn demonstrates on a consistent basis. The equipment is well maintained, the operators are knowledgeable and the work is performed efficiently and effectively. We also appreciate the effectiveness of communications relating to cost estimation, invoicing and administration. SCS plans to continue its association with Brooklyn Barge and Tug Services on future projects requiring their expertise and specialized services."
Lorne McNeilly, Construction Manager, Splatsin Construction Services LLP
Benefits of working with us
Safety First
By providing safe equipment and experienced staff to perform all desired jobs, we are committed to a culture that demonstrates safety 100% of the time. All employees are responsible for their safety and the safety of others. Our team builds safety into everything we do.
A Reliable Team
We pride ourselves on reliability. Our customers can always count on us to provide a thorough and professional level of service. We are committed to the satisfaction of our customers by delivering responsive and exceptional service for every single project.
Innovative Solutions
It's important to us to meet your budget and timeline. We are able to bundle services efficiently due to our diversified services and team of operators. Our team is always up for a challenge, committed to working with you and finding the best feasible and innovative solutions.
Exceptional
Customer Service
We are committed to listening to our customers, understanding their specific needs and providing solutions that will successfully complete their projects. As a team, we fulfill this by providing excellent communication and flexibility to our service offerings. With great customer service we will always meet or exceed your expectations.

Prompt Emergency Services
We are available 24 hours a day, 365 days a year. For all of your emergency service needs, you can count on us to safely and quickly assist you with your unexpected emergency – no matter the size of your predicament or the circumstance of your situation.
Diversified Operations
We are more than just a barge and tug company. We have a large fleet of equipment, a multitude of services and an experienced team of operators available to perform your jobs. Whether we are helping with lake clean-up, dock maintenance, or digging a foundation, our customers will feel confident knowing we can complete a wide variety of services.